Kustom
Best known for their "tuck-and-roll" padded amps, Bud Ross's Kustom also made a couple of combo organs during the late 60's and early 70's.. While not exactly common, there are more of them out there than you might suspect. The Kombo even gets a mention in Mark Vail's "Vintage Synthesizers".
Check out the VintageKustom web site for more great pics and info. Some of the model and pricing information I have here came from their catalog scans.
The Kombo Has Landed!: I had seen the Kustom Kombo in 19689in the catalog (shown below) and always thought it one of the most intriguing instruments ever. After finding eBay about 5 years ago, I started serious research, which led to the Combo Organ Heaven web site. The possibility of finding a Kombo, and even owning one, was a primary motivator in my research. Well, that day has finally come. As of December 13, I am now the proud owner of a gen-u-wine Kustom Kombo in Gold (It's the Gold one pictured below)! Many thanks to all who helped and encouraged me in this quest, especially Les and Dan.
---
Kombo
| | |
| --- | --- |
| | Well, if this isn't one of the oddest looking instruments ever. I mean, c'mon - what're you supposed to do, get a separate monitor amp so you can hear yourself play, then get some wheel chocks to keep it from rolling around? Actually, one owner has reported that they're quite comfortable to play, but that you definitely need a separate monitor speaker. |
The Kombo first appeared in the 1967 catalog (Schematics I have are dated 10/25/67), and was still listed in the 1971 price list, right along side of the Kombo II (see below). Prices remained the same during the entire time (see the "Speaker Configurations" section below for pricing). According to information at the Keyboard Museum the Kombo was available from 1968-1970, and a "Reverse Keys" version from 1970-1972. I have confirmed the existence of this version, but have not seen a picture of one yet. Baldwin (the later "Kustom 88" piano is a modified Baldwin EP-100) was involved in the production of the Kombo, but I don't know to what extent.
Look at the names of the voices below - really bizarre. I have a copy of the schematics, and the circuitry is amazingly simple. The K200 preamp (small square control panel on the back) is not even used for the organ - it's only there for any additional instruments that you plug into it (see interesting story about this panel below) . The organ output drives the power amp directly. The "Audio Level" tabs just cut in some fixed resistors to change the individual volume of the treble and bass sections. The catalog calls this a "unique sectional volume mixer" - it would have been cheaper and more versatile to put in a couple of knobs, but wouldn't have looked as cool. The "Poly Combo" tabs are just Mixtures - combinations of two or more ranks with different filtering. According to a copy of a memo I have from Kustom to their dealers (dated 11/25/69), there was no owners manual available for the Kombo.
Controls:
Tabs: Electric Bass 16', Thunder Bass 16', String Bass 8', Buzz Bass 4', Third Bass 2-2/3', Audio Level Two, Three and Four
Knobs: Sustain, Reverb
Tabs: Bass 16 Sustain Off/On, Vibrato Accent Off/On, Vibrato Depth Heavy/Preset, Vibrato Speed Slow/Fast, Treble Reverb Off/On, Treble Boost Off/On
Knobs: Depth, Speed
Tabs: Poly Combo A, B, C, D and E, Octave Modular 16', Vox Aurex 16', Buzz Reed 16', Octave Modular 8', Vox Aurex 8', Buzz Reed 8', Octave Modular 4', Mini Quad 4', Voo Doo 2-2/3', Mini Duad 2', Audio Level Two, Three and Four
Back Panel (preamp): Volume, Bass, Treble, Bright Off/On, Hi/Lo inputs (Just like a K200 amp)
Tabs
Note that in these pictures, the "Bass Sustain" and "Treble Reverb" tabs are Grey. In every other Kombo I've seen, these two tabs are Red.
Pictures of tabs courtesy of Jimm Bennett
Insides
Just a couple of quick shots of the innards. The top just flips up to access the guts:
---
Kolor Gallery
Kustom gear came in seven different colors, basic black, and 6 sparkly colors from the Naugahyde "Zodiac" series. (This line of Naugahyde is still available, by the way, and includes some colors not available back then). One color that often causes confusion is Silver. In it's original form, it's often mistaken for white. As the years have gone by, many of those have yellowed, producing a color that's often mistaken for Gold.
Basic Black

Picture courtesy of the Audities Collection

Charcoal

Picture courtesy of Jim Shawgo

Blue

Picture courtesy of Jimm Bennett

Silver (aka "White")

Gold

Red

Yellowed Silver

Could be mistaken for Gold

Cascade
---
Speaker Configurations
The Kombo has a built-in K200A amp, and a preamp so you could plug in other instruments to play along with. The organ signal feeds directly into the power amp, and the preamp is ONLY for external instruments. Both feed into the organ's speakers. Some early models did not include this preamp (see story about this below). There's also an external speaker jack next to the expression pedal "doghouse". The chrome ports were an optional feature, available for an additional $20. The Kombo was offered with several different speaker arrangements, as follows (note how the price is actually part of the model number(except for the AK-195) - I don't know of any other Kustom products that followed this convention):
| | | |
| --- | --- | --- |
| J-1295 | 4 12" Jensens | $1,295 |
| A-1495 | 4 12" Altecs | $1,495 |
| AK-195 | 2 15" Altecs, 2 HF horns | $1,495 |
| K-1495 | 2 15" Kustoms, 2 HF horns | $1,495 |
| L-1595 | 2 15" JBL D130F's, 2 HF horns | $1,595 |
15's (JBL's) and Horns in standard "over/under" arrangement.

Picture courtesy of Jimm Bennett

4-12's
Unusual 15's/Horns "cross" configuration. Note the absence of ports.
15's/Horns "cross" config, like the one at left, but this one WITH the ports

This most excellent studio shot is courtesy of Bob Wissinger
Size is 40" x 40" x 21". It's actually fatter at the top than the bottom (22" at top, 16" at bottom).

Weighs in at a svelte 198lbs (I know, I weighed mine!)

"Rosie the Robot" Picture courtesy of Jimm Bennett
---
The Kombo in Action!
"Tommy T and the Federal Reserve". This publicity shot was taken at Lutheran Hospital in Des Moines, IA in February, 1968.

Picture Courtesy of Kustom Dan at VintageKustom.com

And here we see a color shot from the same photo shoot. What a great lineup of matching Cascade tuck-n-roll!. Note that in this one, they're playing Kustom guitars (which they did not use). Also note that some of the guys haven't moved an inch. A second Nauga, however, has appeared in front of the organ.

Picture courtesy of Bob Wissinger
Bob tells me they were one of the first bands to purchase a complete set of gear from Kustom, and so got a good price on the purchase. He says the Kombo had a "ton of power", and was plenty loud for guitar, too. In his words: "All I ever got were compliments on the great and powerful sound. And yes, as a former lead guitar player, I played my Fender guitar through the organs aux amp and the sound was great."
This following picture is from a sales flyer. Note that there is no preamp panel or extension speaker jack on this one:
There's an interesting story about that preamp panel. According to Bud Ross, as related by Jimm Bennett:
"...it was originally shipped without the pre-amp module. That is why the earliest literature doesn't show them with one. (According to Bud, the picture you have on your site (above) is from 1966) Kustom retro fitted the device onto every organ IN THE FIELD, as a cover up excuse to fix a mechanical problem with the keyboard assembly. Apparently, after the organs shipped to the dealers, it was discovered back at the factory that the keys would randomly pop off! Instead of a issuing a recall (almost unheard of in those days anyway) Kustom never admitted the keyboard problem - but instead sent service techs around the country installing the FREE pre-amp upgrade, as a gesture of good customer service! As the tech installed the preamp, he also fixed the keyboard problem by adding some type of retainer clip/spring, and the customer was none the wiser. Bud said that his reputation for good customer relations went through the roof from that one particular event. Bud Ross - the ultimate Spin Doctor!"
And, finally, a really nice shot of Jimm Bennett's Blue Kombo, at home with it's siblings. What a sharp looking family!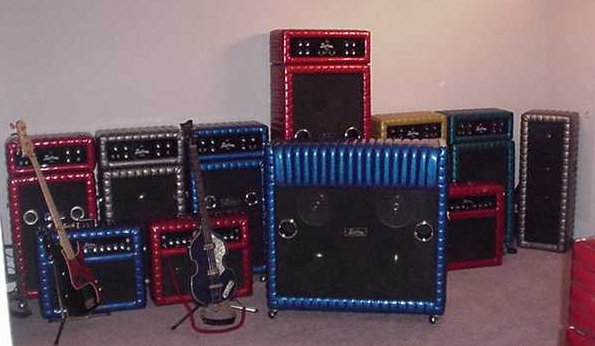 ---
Kombo II
This one must have come out when they changed the amp line to slanted fronts and square blue power switches. Kind of hard to call it a "combo" organ, but I'm including it here for completeness, and also because it looks rather bizarre in it's own way. Looks like it may have been inspired by (or possibly the inspiration for?) the Hammond X-66. After conversing with an owner of one, I found that, contrary to my previous information, it does indeed break down into two sections, and can actually be transported in a small station wagon.
Original list price on this was $2,495. According to information at the Keyboard Museum the Kombo II was available beginning in 1974, but I've seen a maintenance manual for it on eBay, and the seller said the schematics were mostly dated 1971. The Kombo II also appeared in a 1971 price list.
The description on the price list reads: "Two full 61 note, dual manual keyboards with piano and harpsichord capabilities. Nine harmonic drawbars for each manual". Sounds like another B3-wannabee with extra stuff.
Controls: See the flyer below - it pretty much covers it.
Here's a description from a satisfied owner:
"It has drawbars on both keyboards and an RMI type piano and harpsichord on the top keyboard. It has built in Leslie jacks for both a 142 and 147 type leslie amps. It has a slow, fast ,and off switch built in the organ. Through a leslie it sounds amazing. It doesn't have the "pop" of a Hammond but has a great tone. It's a litle cheezy through an amp but that makes it even better."
(The following pics are courtesy of Dave Gant)
And here's a Kustom Flyer extolling the virtues of the Kombo II: