Farfisa: Others
Just a collection of other models that didn't fit anywhere else (well,the Matador could have been stuck in with the VIP's, I guess).
---
Matador
Model No: 611
Controls:
Manual Bass: Bass Attack On
Treble: Flute Brass Horn Oboe Reed Brilliance
Percussion: On Phrasing Decay Repeat
Vibrato: Speed Delay
Repeat Speed (knob)
Rear Panel Jacks: Ext. Amplif., Slalom, Headphone
---
Matador-R
Identical to the Matador 611, but with the addition of a Rhythm unit
Model No: 611/R
Controls: Same as the Matador
Rhythm Unit Controls: (ahhh, who cares?)
---
Matador-M: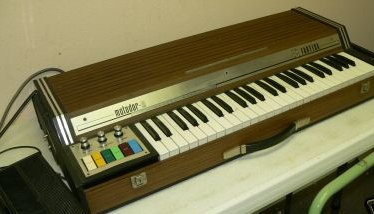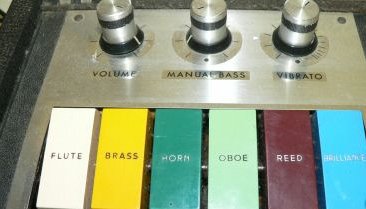 Controls:
Knobs: Volume, Manual Bass, Vibrato
Voice Tabs: Flute Brass Horn Oboe Reed Brilliance

---
Matador-A
Controls:
Accomp: Soft/Loud Bass Chords/Manual Bass
Wah-Wah: Off/On
Vibrato: Slow/Fast Off/On
Voice Tabs: Flute Brass Horn Oboe Reed Brilliance
---
Commander
(Thanks to Dirk for the great pictures)
This picture is courtesy of Carlos (owner of the Spanish combo organ yahoo group - URL is in the picture). Note that the stand is just like the one for the Bravo.
Controls:
Tabs:
Pedalboard: Bass, Sustain, Bass Guitar, Trombone
Lower M.: Flute, Clarinet, Reed
Upper M: Flute 16', Flute 8', Flute 4', Clarinet 16' Oboe 8', Piccolo 4'
Vibrato: Vibrato On, Vibrato Fast, Vibrato Delay
Wah Wah
Buttons:
Mono Section: Cancel, Trombone, Sax, Clarinet, Harmonica, Violin, Piano, Attack
Sliders:
Volume: Pedal, Lower M., Mono
Sustain, Reverb

Buttons on front, below keyboard: M, 7th
Owner "Dirk" offers the following commentary: "for me the commander sounds like a vip205 look a like. the sound possibilities are less than on the vip, but the accomp and rhythm unit is big fun with elektro harmonix effects! ;-) the connector for the bass pedal is strange. looks like a small scsi-adaptor."

---
Bravo
Controls:
Sliders:
General Volume, Bass Volume, Rhythm Volume, Tempo
Accompaniment Tabs:
Bossa Nova, Rock, Disco, Swing, March, Waltz
Key Start, Easy Chord, Memory, On
Treble Tabs:
Flute, Brass, Horn, Reed, Strings, Wah-Wah
Vibrato Tabs:
On, Fast
Attack Tab: On
Buttons Below Keyboard: m, 7th
---
Super Bravo
Thanks to Melbourne Music for the pics of the Super Bravo. Here's their typically entertaining description:
"Born in 1971 and raised on a diet of psychedelia, this is the musical equivalent of a large block of Gruyere. The ubiquitous rocker tabs surface once again in shades of Yellow, Red, Cornflour Blue, Regal Blue and Ivory, proving beyond a doubt that the visually challenged were not just restricted to Eastern design studios.A similar (almost identical), complement of voices to the Japanese entries, with the addition of a dedicated WhaWha tab.(Oh yeah, this is Really Useful!)Control is via slide pots (Hey.1971, remember?), and includes controls for a rhythm section. Rhythm? -Yes!..Bonus! Really Useful feels like Swing, March, Waltz-who could ask for anything more. But more there is...Attack-(the dumbest percussion ever heard),Auto Chord function with dedicated Minor and 7th buttons ,and another tab called Free Bass, which is probably for those really Hot Richard Pryor sounds. But wait!..forget the free set of steak knives, this unit comes with it's own integral amp and speakers.Casiotone eat your heart out!"
---
Bravo 61
This one is a bit fuzzy, but it's larger, and you can see some of the markings a bit better. Still can't quite make out the tab names, though.