Want to make combo organ music, but can't afford the real thing? Just want to explore their capabilities and sounds without the investment in money, time, repair effort, maintenance and storage? Then a "Combo Sim" (my own made-up term) may be just the ticket! There have been several Combo Organ "Simulators" developed. These are VST plugins, which can be used with most any DAW or VST Live Host, and provide all the sound and functionality of the real thing, without the outlay of cash. storage space and repair skills.
Many of these come with a stand-alone engine, but some are only available as a VST dll. For that, you need software to "host" it. Typically this would be a "DAW" (Digital Audio Workstation), but there are several free VST "Live Host" programs available. Just Google "VST free host" and you should be able to find a decent one. I don't have a lot of experience with the live hosts, so I can't really recommend one. For a DAW, I use Reaper and can recommend it highly. The demo is free and fully-functional. A license is only $60, money well-spent if you do that sort of thing regularly. Head over to reaper.fm to download it.
The first four Sims are from Martinic. Combo-V and Combo-F are free, but donations are encouraged to support development. The Elka Panther isn't free, but a demo version is available. The Panther includes the Lem Echo effect as well. The Martinic Rheem Kee bass is also free (there's a free trial, but (for now, at least) you can "order" a free license for it. Check out their other products while your'e there.
Foo-YC20 Reproduction of the well-known Yamaha YC-20. The link is to a Git project. Look for the .zip file for the Windows executable.
There's also a web-based version here: https://foo-yc20.codeforcode.com/ You can check it out using the on-screen keyboard or use your Midi keyboard. Word of warning, though: WIth the web-based version, there's a slight delay between keypress and sound when using a MIDI keyboard - at least mine did.
Combo Sister A rather unusual combo, not based on any real-world model. Not free, but there's a fully-functional demo. The only restriction is that it will only run for 30 minutes and you can't save parameters. To be honest, this one is a little odd. It takes some time and experimentation to get the hang of it.

Iliadis iVF Combo Organ Here's another one not a clone of an existing organ, but "inspired after famous Transistor Organ models". It seems very Vox-Continental-ish to me, though. There's another place you can download it here. I think they're the same.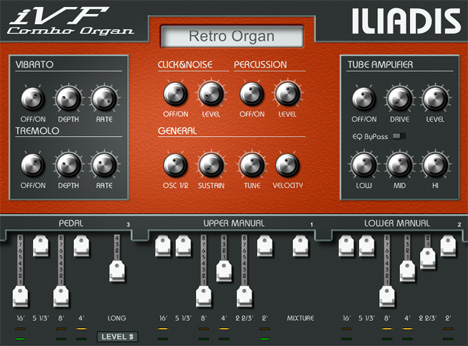 And lastly, Arturia sells a HUGE array of vintage keyboard "Software Instruments". Each one includes a VST dll AND a self-contained executable, eliminating the need for a DAW or other VST hosting program. They're not free, but each comes as a demo version, which works for 20 minutes at a time and doesn't allow saving of parameters, but otherwise is fully-functional. They also sell a bundle (the Arturia V Collection) that includes pretty much all of them in one package (24 in all, as of this writing), which works out to about $20 each - wottadeal! In addition to the two great combo organs shown here, it includes a Mellotron, Clavinet, Rhodes, Wurli, DX7, B3, Minimoog, Moog modular, etc, etc, etc - amazing instruments, check 'em out!
Arturia Vox Continental V This is probably THE most feature-rich combo organ simulator ever. It has more drawbars than you'll find on any Vox, and you can also select a "Jennings" engine for a different experience. The PDF manual makes for good reading, and has some historical information as well

Arturia Farfisa V Based on the Farfisa Compact Deluxe, it includes other features, like the Tremolo effect from the Compact Duo. Comes with an amp and several effects

UVI Retro Organ Suite. Huge collection of organs, including Hammond B3, Vox Continental, Farfisa Compact/Duo, Elka Panther, Yamaha YC-10, Philips Philicorda, Eminent Grand Theater 2500(huh?), Elka Classic(?) and even a Korg CX-3 (a VST reproduction of a physical Hammond clone? wow!)

If you know of any I've missed, Contact me and I'll update this page.